FrutaMare is more than an online store: we are producers, harvesters and vendors of oranges and tangerines. Now, in 2018, our aim is to make the leap and sell via the internet by focusing on the two essential pillars of our company: our product and you, our customer.
Straight from our trees to your home in just 72 Hours
With our commitment to share the finest fruits from our orchards, at FrutaMare we see it as vital that our oranges and tangerines spend as much time as possible on the tree. Enjoying an orange fresh from the tree is something that is hard to describe: the taste, the juiciness, the aromas.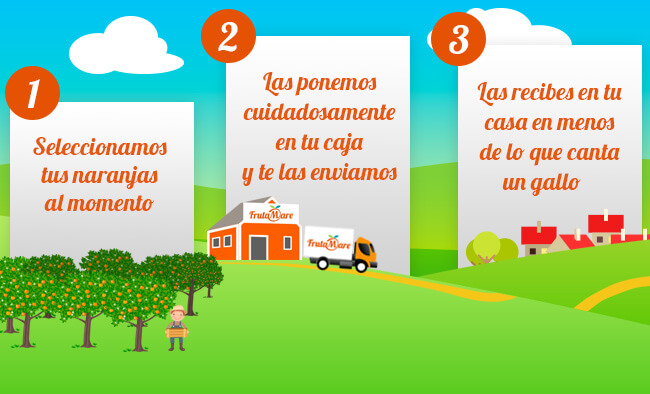 Which route do our oranges take?
As producers who sell directly to you, we avoid the use of intermediaries. This means that the process from when we pick the oranges up until they arrive at your house is very easy to explain:

First of all, once you have ordered your oranges, we expressly harvest the required number from our trees to meet your order. Once we have picked them, we sort them according to quality and calibre, and clean off any small bits of earth.

We place them into 10kg and 15kg boxes and cover them and get them ready for shipping. We notify the carrier and send them your box so that they can deliver it direct to your door. Within 72 to 96 hours the carrier will have arrived at your home.

Final step: all you have to do is pick up the box, open it and taste one of our delicious oranges or tangerines in whatever way you wish. By the way, don't forget to share your experience of our oranges with others!
Changing the Rules of the Game
Paradoxically, although we all know that seasonal fruits and vegetables are greatly superior to those that have been ripened under artificial and controlled conditions, it is currently very difficult to find naturally ripened oranges or tangerines. It is clear to see that most large supermarkets no longer sell Valencia oranges or seasonal oranges, and instead prioritise quality over quantity at a cheaper price.
Our aim is not simply to honour Valencia's citrus fruits; we also want to honour our farmers by selling the best possible oranges at a price that is fair for all – both farmers and customers. A national product, meticulously cared for and with a flavour and texture that are hard to beat… Valencia oranges freshly are plucked from the tree without using intermediaries.
Seeing as our primary rule is to pick only oranges that have ripened on the tree, we guarantee a fresh product with the best qualities. With their fresh, scented skin and juicy, tasty flesh, FrutaMare oranges are of exceptional quality. Also, because we have a number of different varieties, we offer the most suitable variety for each season of the year.
For example, we'll offer Navelina oranges before a Navelate as one ripens much earlier than the other. This means they reach their full flavour and maximum quality at different times of the season. We respect the orange trees' seasons and leave each one to bring forth its best without forcing the ripening process.
In terms of sugar concentration and flavour, we believe we offer oranges that are of exponentially higher quality than those ripened in chambers. This is because the natural sugar that the tree brings to the fruit cannot be compared to the sweetness that is achieved using artificial methods in which the fruit is separated from the tree during a process that is so important to the quality of the produce: ripening.